Low-Maintenance Gal Gang: A 3-Step Routine for a Natural Glowy Skin, Like Literally.
By Mark Mabel (@bomabel)
You see, I pay heaps of care to my skin.
I make an effort to eat less oily so my face wouldn't break out uncontrollably, I drink water throughout day and night to retain my skin's hydration and exercise every now and then to keep toxins and all things nasty at bay. I take all measures but one – a proper skin care routine. *internal head shake* Hilarious, I know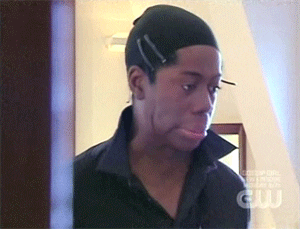 Courtesy to Giphy
Fortunately, I have been blessed with a low-maintenance skin since a young age. No obvious black or white heads, large pores, oily or sensitive skin. Puberty? Visited and left my teenage years without an acne scar. Growing up, I have also tried several brands of skin care products.

From counter, to pharmacy, to organic, to any brands my momma has bought me.

Did I manage to stick to any of it after all these years? No. Because I would simply, fall back to cleaning my face with clear water albeit having had an oily and sweaty face after a workout sesh, or an impurity-layered skin after spending a long day out.
Why, you must be wondering? Well. I guess I am… low-maintenance or low key lazy ?! I have always assumed that practicing a skin care routine would score me too much unnecessary time.
You have your cleanser, exfoliator (don't forget the high-tech electric exfoliating brush which, apparently, cleans 6 times better), essence, serum, mask, treatment, and a myriad of other all-things skincare. TOO MUCH?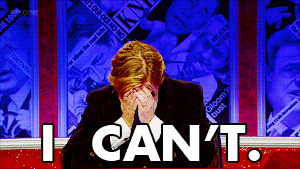 On top of that, I have always had a conception in which I believe, putting too much chemicals into/onto your skin will do more harm than bringing you one step closer to Ulzzang.
However, within months of rolling in 2018, it's one of my resolutions to take my skin-pampering efforts up a notch.
After umpteen research and asking-around, I have begun adapting a 3-step skin care routine, complimented with The Body Shop Vitamin E Range products. Nothing too time consuming, but more than sufficient to give my face its natural glow and clarity. Prior to trying these products, I have consulted a dermatologist to understand my skin type and condition thoroughly, in order to purchase the suitable range. So come and check out what I have to say about this trio next
PRODUCT/ STEP 1

The Body Shop Vitamin E Gentle Facial Wash

The Vitamin E Gentle Facial Wash is suitable for all skin-type. It is formulated with Vitamin E, wheat germ oil and a star ingredient, shea butter to produce a gentle and non-dehydrating wash which leaves my skin clean, revived and baby soft. It has a very refreshing yet revitalizing scent to it, and its texture (becomes lather upon contact with water) is very light and creamy. I use it every day in the morning and before bedtime.

After several use, I have noticed the milia on my face diminishing, which has led to my face becoming smoother, with less bumps on my forehead and T-zone area!
PRODUCT/ STEP 2

The Body Shop Vitamin E Hydrating Toner

After cleansing my face, I would apply the Vitamin E Hydrating Toner. This product does not only enhances the moisture and hydration of my face, but it can also remove traces of make-up without any harmful chemical substances, as it is made alcohol free, with protective Vitamin E, moisturizing wheat germ oil and Community Trade soya oil from Brazil. I would recommend to soak a cotton pad with the toner, and sweep across the face until clean for maximum absorption.

With the recent weather becoming humid, I store my toner in a refrigerator at times to create a cooler and rejuvenating use upon application. I would also fill this toner in another smaller spray bottle so I can freshen up throughout the day and stay energized, no matter at work or on-the-go.
PRODUCT/ STEP 3

The Body Shop Vitamin E Moisture Cream

The third and last step of my skin care routine would be to apply the Vitamin E Moisture Cream (applied after cleanser, and toner). What I adore most about this product is that it is very lightweight and non-greasy, which leaves my skin feeling silky soft, fresh and looking radiant.

Made with bio fermented hyaluronic acid, wheat germ oil, shea butter, aloe vera and many other skin-friendly ingredients, this Vitamin E Moisture Cream with its 48-hour moisture infusion technology can be easily absorbed, which provides a plumping effect and helps ward off dryness all day long.
I have decided to opt for The Body Shop products because the ingredients used are natural without any hints of damaging or toxic elements. Besides, The Body Shop is one of the brands that highly advocates product testing against animal, in which I personally support. If you are a vegetarian, you may give their products/ranges a try, as all of their products are free of any animal-derived ingredients that are obtained as a result of animal slaughter.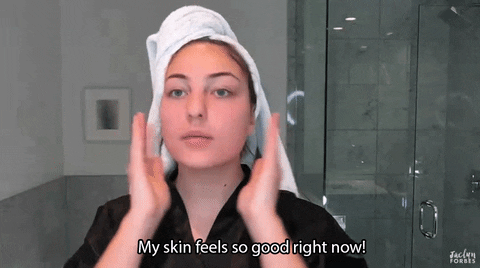 OMO! IT'S THAT SIMPLE.
3 steps to a greater skin which does not consume much of your time. There's no excuse for you and I to skip this routine now, innit? Have you tried these products too?